St Peters, Boerne, Knights of Columbus council 10940
In Service To One, In Service To All
our annual major fundraising event
A Message from our grand knight
Our Knights of Columbus Council, St. Peters 10940, mission is Charity, Unity and Fraternity.  The  first and foremost principle of our order is Charity.  Through our History as a council, we have funded our charitable giving to our St. Peter's Parish and our local community mostly through cooking fundraisers.  We have provided meals for church ministries and community organizations such as the YMCA and Boerne Independent School District.   All of these duties have been a pleasure for the Knights and given us the opportunity to provide Charity, but also the enjoyment of Unity and Fraternity for the Men of our Council.
Most parishioners are aware that we've done the majority of this cooking at the Pavilion Facility just North of the Sanctuary.  As our Parish continues to grow, we have the need for additional parking at the main campus and it's likely that the Pavilion/Storage Facility will eventually have to be leveled for this purpose.
As a result, we've been saving and planning for a new Pavilion and Storage Facility at the Upon this Rock Campus and are working towards making this a reality.  Your Knights of Columbus Council will be providing a gift to St. Peters upwards of $300,000 to make this a reality.  Through this beautiful new facility, we will be able to continue to support St. Peter's when called upon.  Parishioners and ministries will also be able to enjoy and utilize this new enhanced gathering space which will include adjoining kitchen facilities and bathrooms.  We do this because we are first and foremost men who love our Church!
Please prayerfully consider becoming an underwriter for this endeavor.  Should you have questions about participating in the underwriting effort, please contact Past Grand Knight Greg Jaeger at 210-913-8686 or [email protected] .  If you have no questions and are ready to become an underwriter, please use the "Donation" item below.
God Bless,
Knights of Columbus Council 10940
Our Annual Major Fundraiser, Cinco de Mayo by Knight is a  "Last One Standing" style reverse raffle with great prizes and a fun event that you will certainly enjoy!  Even if you can't attend, you can still buy a ticket and participate in the major award reverse raffle  – you can also enter several other raffle opportunities on tap that will be awarded that evening.  This annual fundraiser kicks off the final phase of the work to fund the new Pavilion and gathering spaces.  We've already accumulated nearly $250,000 and hope to raise the remaining needed through this year's annual event.   This beautiful new structure will be located at St. Peter's Upon this Rock Campus. See the rendering of the new Pavilion below: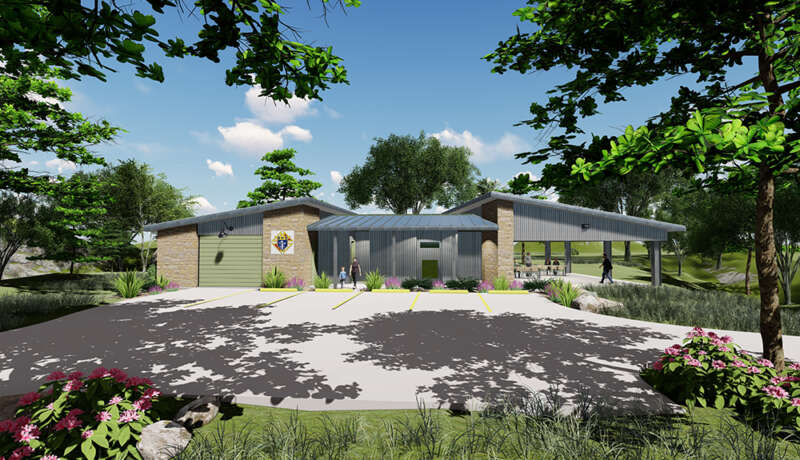 Online sales have ended. Items can be purchased at event
If ordering multiple tickets, you need to select "ADD TO CART", fill your name, email, and if you are planning to attend (have a meal) with that ticket purchase, then click "ADD TO CART" again.  Do this same process for every additional ticket you are buying.  You can use same information if needed for every additional ticket. 
If you need help, please email [email protected]  Allow some time to respond.